up until now, i've still no idea what i wanna buy for the gift exhange tomorrow! *pulling hair*

used up my whole 1.5 hrs of lunch time today, skipping lunch, to walk around suria but still can't find anything! bought the 'stand-by' gifts tho', for those who come without any gift, complete with cute wrappers...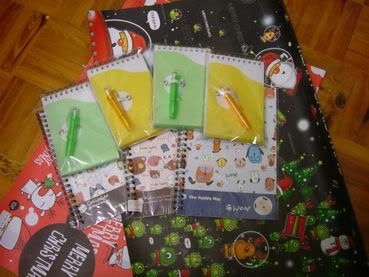 but i've no freaking idea what i wanna buy to represent me! i've thought of taking the easy way, just buying chocolates. it's unisex enough. now tell me who won't appreciate a box of chocolates, huh? but it's so unoriginal. it's like buying a mug or a photo frame... so boring! *sigh...

even tried 'stealing' ideas from ks during our sms-conversation just now. he said he bought a clasical cd. hmm... something to think abt. but i'm not the cd-buying kind. and i dun think most of the ppl would appreciate my brand of music anyway...

*pulling back on thinking cap* how abt buying stuff that i like? it'll be like sharing a part of me with others! BUT most of the things that i like are cute stuff... what if a guy got it?? deco stuff? so unpractical...

think i need to do another round of walking ard the shopping mall for inspiration. but midvalley on xmas eve??? *shudder* should i sacrifice my beauty sleep to beat the crowd by going there at 10am?