well, here it is...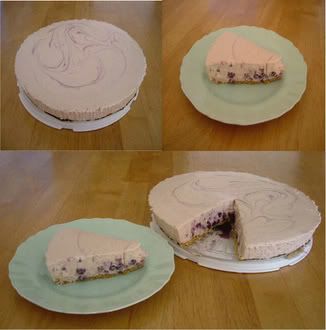 looks kinda nice huh? can see a lot of blueberries inside... yummy! at first i put in half a tin of blueberries to be mixed in the mixer, then discovered all the blueberries crushed up! that's y the cake looked a bit blue. hahaha... so after i remove it from the mixer, i add in more blueberries and just stir it with a spoon. cut it up this morning, still too soft. but at least it can still stand on its own. i was so afraid it'll just collapse melimpah-limpah out when i peel away the aluminium tray. *phew!



anyway, i think i put in too much blueberry syrup at one place n didn't stir the bottom properly, coz when i cut it, the syrup kinda seep out, like bleeding! my bleeding blueberry cheesecake! hahaha...



taste wise, still ok lar. still tastes like blueberry cheesecake. if only i didn't used too much whipping cream. then it'd be perfect! *sigh...