niece ying scribbling about her first flying experience on the vomit bag (an unused one, of course!) .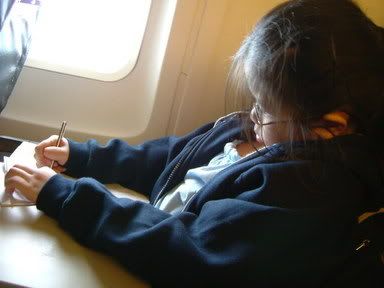 guia fort, taken from the balcony of hotel room. it's just a short walk up the hill from our hotel, but didn't actually make the trip there.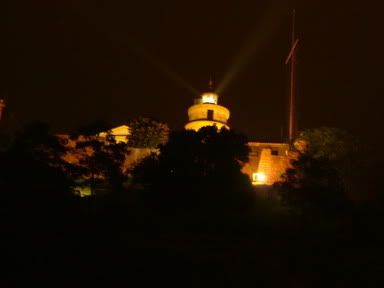 macau seems to be a very hilly place, with most of their structures built on slopes. and their streets are very narrow!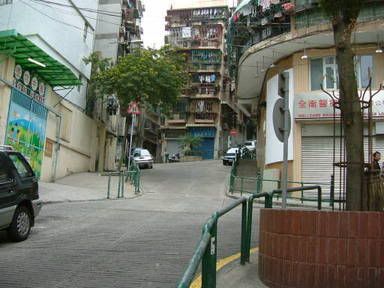 ruins of st. paul's church, probably the most photographed structure in macau. felt a bit like at a'famosa of m'ca, tho this is much grander.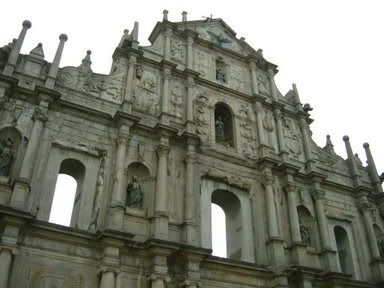 and next to the st. paul's church is the monte fort.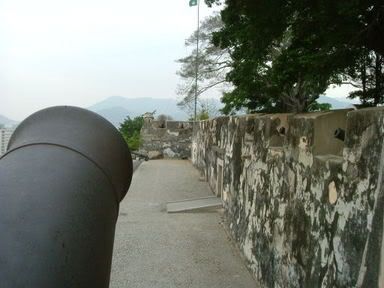 st. dominic's church on leal senado plaza.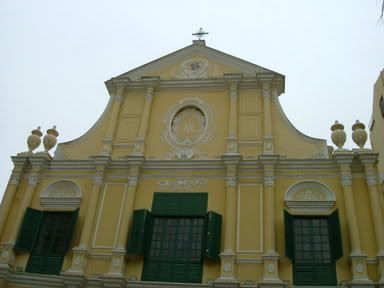 leal senado plaza.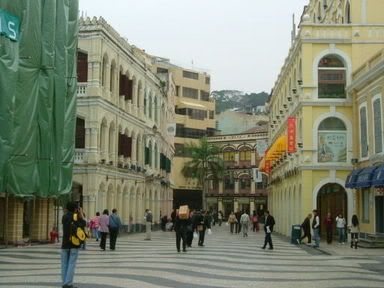 life saver!! this is on leal senado plaza too.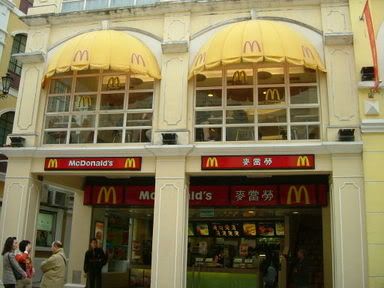 my super small room in hong kong.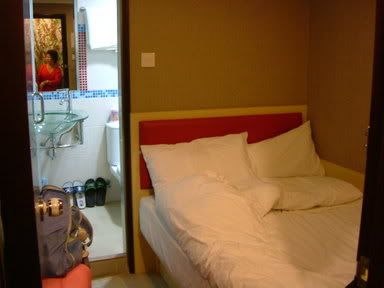 this is the first time in my life that i'd seen such a small room. i think it's only 8x8 feet! i can't even open up my luggage bag in the room! need to do it in the corridor outside. luckily it's a private corridor with a door seperating us from the front lobby (if it's even called a lobby!), with only 3 rooms sharing it. the room next to mine was bro's and the one next to his was unoccupied, so we had the whole corridor to ourselves.

but other than the limited space and the ancient n super small lift (which only fits 4 adults), the hotel (ok, it's not even a hotel. it's more of like a rumah tumpangan) on the whole was quite ok lar. it has just undergone a renovation, so all their things are brand new n clean. also, they have 24 hrs free internet access! so cool...

tea ceremony during cousin hsiang's wedding.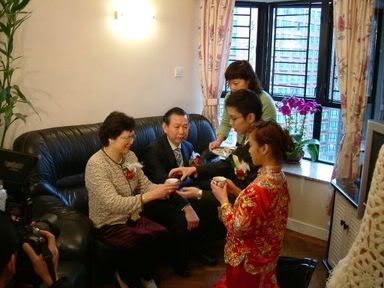 check out the list of marriage notices! cousin wu and i amused ourselves a little comparing the ages of the marrying couples during the wait to get in the marriage hall. hehe...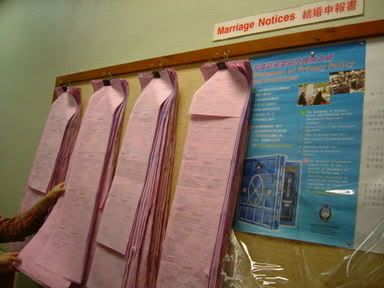 marriage in true hong kong style!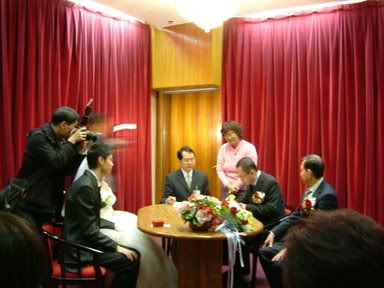 on the train to disneyland! even their trains are cute, with mickey-shaped windows and handholds.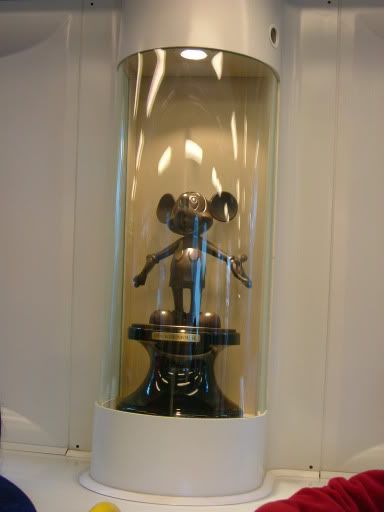 tickets and guide map.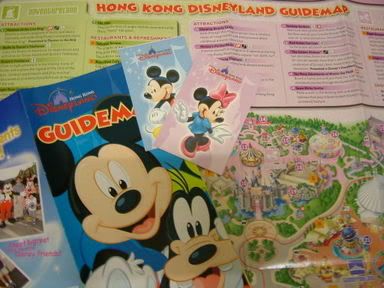 all aboard! train that brings us around the whole of hk disneyland.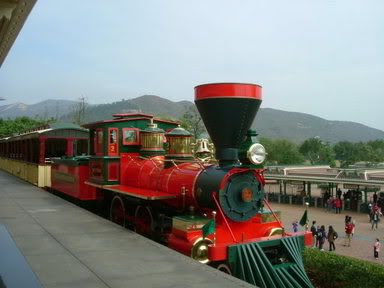 the aliens from toy story, taken from the train.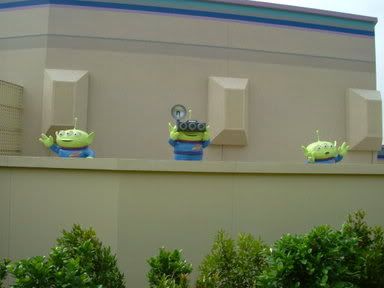 adapted musical performance of the lion king at the festival of the lion king.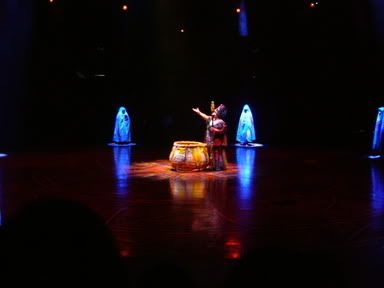 tarzan's tree house.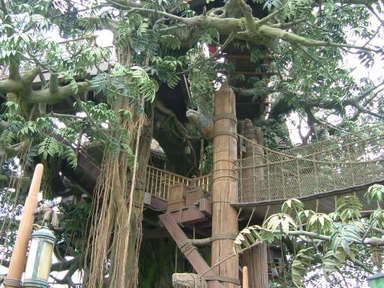 jungle river cruise along the rivers of adventure.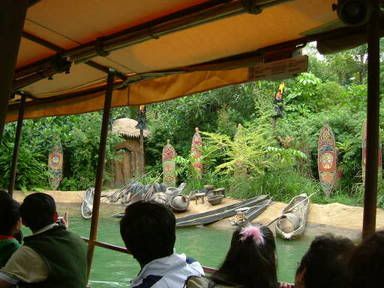 some of the floats during the parade.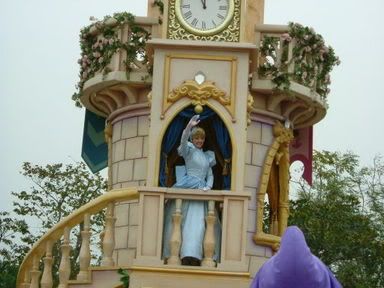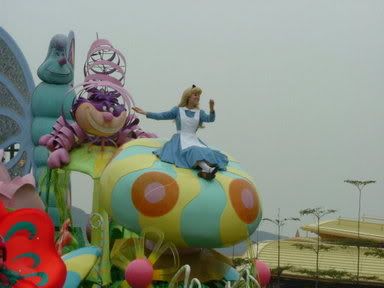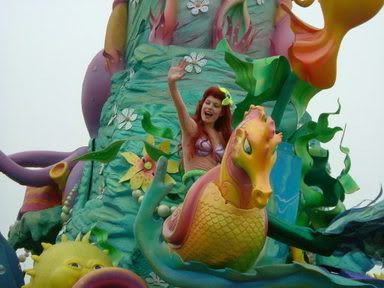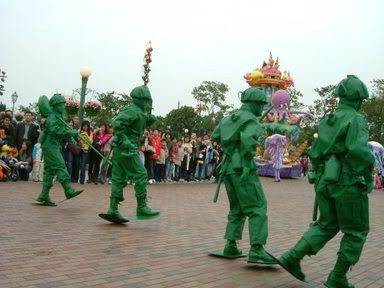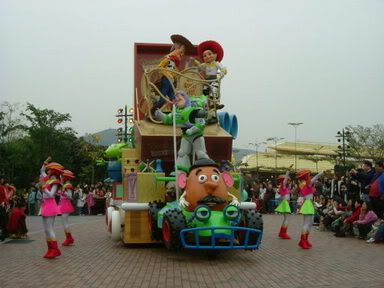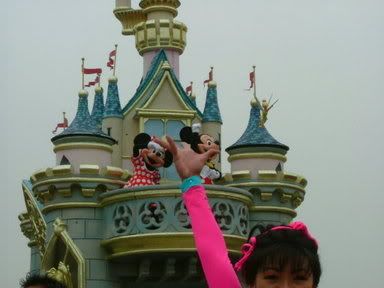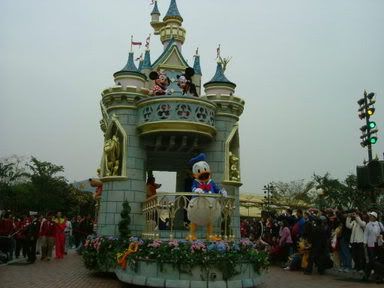 the golden mickeys, an award show that's also a musical in celebration of disney's best-loved films, songs n characters.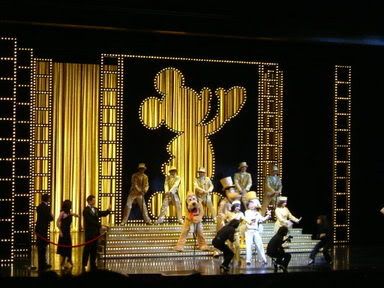 on the whole, it was a good trip. got to see for myself the real hong kong marriage and wedding dinner, an eye opener for me. hong kong weddings are far more mah-fan than in m'sia. and the clothes those ppl wear! all of us from m'sia were so underdressed during the morning wedding. those hongkies must think we're from dunno which ulu part of the world! actually i brought a nice white sleeveless punjabi style blouse with white pants for the morning wedding, but as the weather was much colder than expected and i didn't have a long coat, so can't wear it. in the end, had to resort to slacks and t-shirt.

dinner gown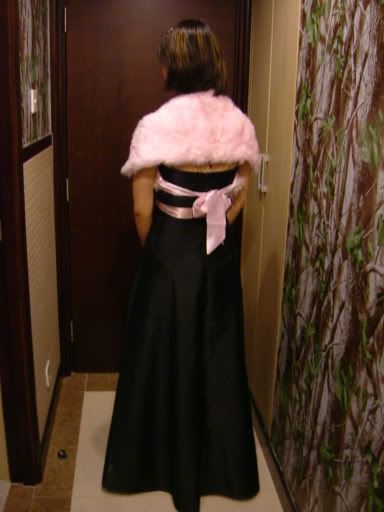 as for disneyland, it's a tad small. but considering the lack of land in hk, it's forgivable lar. lucky for us the weather was quite cold the day we went, so not so crowded. we got to go on all the rides without the long Qs and i managed to take pics with some of the mascots! hehehe... but the irony of it was, mom and my 2 aunts seemed to enjoy it more than us kids! hmm...

and what's the point of going to macau without trying ur luck in one of the casinos? but i lost. so no room upgrade for us! haha... anyway, not sure if it applies for all, but imho, our casino in genting is far more professional than those in macau. the reason for saying this: my aunt was asking a guard (in full security guard uniform) on how to play a certain slot machine. so the guard gladly helped her and guided her thru her game in true show host style. bro was commenting on how friendly the ppl are! but then aunt won abt MOP3,000+ on her first try (with the guidance of the aforementioned guard)! that's when they (the casino ppl) begin to show their horns. when aunt brought her winnings (coins) to the counter to change it into cash, the cashiers kept insisting that she give them some tips! and then the guard came over to ask for tips as well! the cheek of them! well, aunt would have tipped the guard without being asked, but imagine asking for it so shamlessly, esp those cashiers! this would never happen in genting. they are too strict to allow that.

anyway, got to know my cousins better during this trip. really had a great time with them, especially cousin yong from US. feel closer to them. and cousin yong n wu did a lot of research on places in hk n macau, so we went for an afternoon exploration ard hk by ourselves. took the MTR from mongkok (where we stayed) over to causeway bay (on hk island). why we chose to go to causeway bay? erm... cousin yong said that's the place hk stars go shopping and was hoping to bump into one or two! hahaha... well, we didn't but we found the goldfinch restaurant, the shooting site for 'in the mood for love' (staring tony leung and maggie cheung) and '2046' (staring tony leung and faye wong). in anticipation to a late dinner (wedding dinners in hk starts at 9pm), we had 4 different kinds of toasts shared among the 4 of us and drank 'lai cha' (the hk version of our teh susu). i thought 'lai-cha' sucks, but cousins said they should serve such teas at home! urgh!

after tea, walked all the way to victoria harbour to take the ferry over to tsim sha tsui. only HKD2.20! dirt cheap by hk standards! anyway, it's a very very long walk, something i would not even consider if i were back in m'sia! and so, my nike decided to protest... sheesh!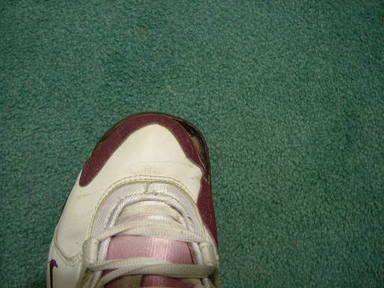 anyway, our exploring made the whole family late for the wedding dinner. we got back to the hotel at abt 6pm. luckily the restaurant was just opposite our hotel, so we just need to traipse down the subway on our side of the road and up the other side and we're practically at the restaurant's doorway! even so, we were very very late, coz in hk, guests start arriving at wedding dinners at around 5pm! apparently, guests like to play a round of mah-jong or cards or to chit-chat b4 the actual makan. what a waste of time!

however, one event dampened this trip for me. on the 1 hour plus ferry ride from hk to macau (flew back to kl from macau), i put my paper bag of hk phoenix biscuits (bought at causeway bay) at my feet. upon reaching macau harbour, i rushed to the luggage compartment to retrieve my cabin bag, forgetting about that bag of biscuits. but i remembered it the moment i stepped out of the ferry door, so i rushed back in to get it. but it was gone! i think i only left it for about 5 minutes, and it was gone! so fast! urgh! dad said must be the work of someone sitting near me. when he/she saw that i just walked off without remembering to take it, he/she must have quickly taken it! so sad, coz other than the 2 boxes of phoenix biscuits and 2 packs of butter cookies in that bag, i also had the can of hk coke that i got for N, an ardent coke collector, and a very nice horse-racing collar pin presented to me by a girl from the hk tourism dept when i did a questionaire for their survey. *sigh... what luck!

well, can only be grateful that i thought of putting all my last minute purchases into my cabin bag, even tho i had to open up the bag on the floor of a public toilet coz din wan the whole world to have a peek into my luggage!

anyway, i'm still in the process of uploading my pics onto the www. also, planning to consolidate those taken by bro n cousin wah (and if possible those taken by the professional photographer during the wedding n dinner) to be uploaded into my online album. will send out invites to friends to view once it's done (hopefully won't take too long!)